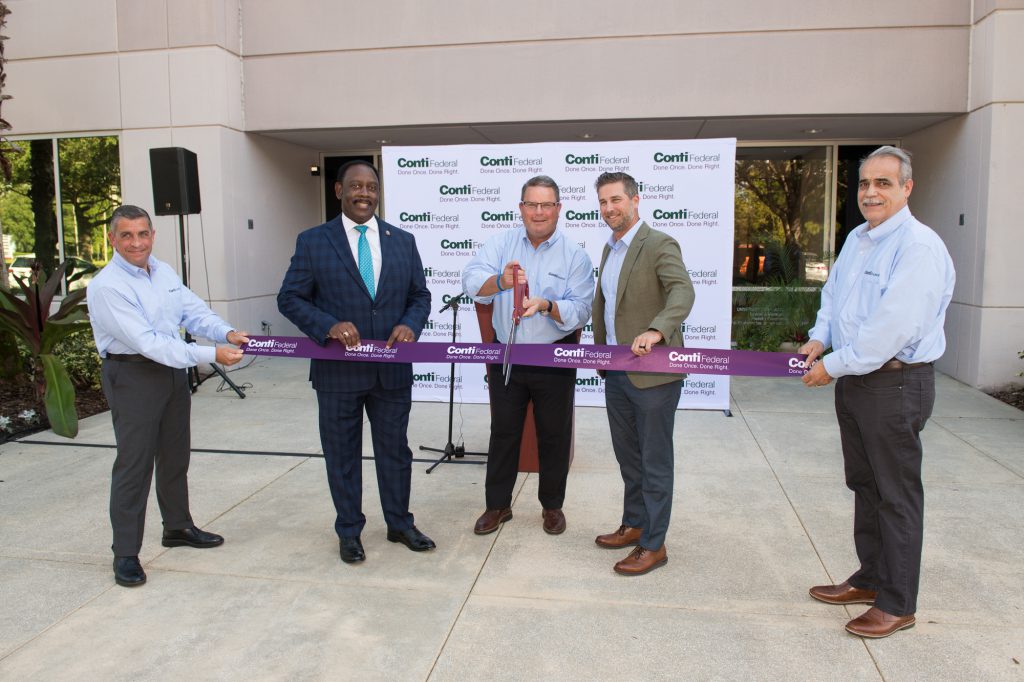 Conti Federal Celebrates Official Ribbon Cutting of Orlando Headquarters
December 21, 2021
Conti Federal Services, a leading U.S. government construction and engineering firm specializing in complex critical infrastructure, disaster response and recovery, and environmental remediation projects, this week celebrated the public opening of its new headquarters, located in the Central Florida Research Park in Orlando.
The ribbon cutting event featured remarks from Orange County Mayor, Jerry L. Demings; Orlando Economic Partnership President and CEO, Tim Giuliani; and Conti Federal CEO, Peter Ceribelli.
"We focus on innovation, collaboration and inclusion in this community as we're building a community that will be the experimental prototype communiy of tomorrow," said Jerry Demings, Orange County Mayor. "Thank you on behalf of the 1.4 million people who call Orange County home, thank you for your trust and your willingness to invest in our community."
"As one of the nation's top federal construction and engineering contractors, having Conti Federal's headquarters here is a big win for our region," said Tim Giuliani, President and CEO of the Orlando Economic Partnership. "We welcome them to the ranks of Orlando's innovative companies and look forward to their continued growth and success in our region."
"We were excited to officially celebrate the opening of Conti Federal's new home in Orlando," said Peter Ceribelli, Conti Federal CEO. "While July marked our official headquarters move, Tuesday's ribbon cutting was about opening our doors to and celebrating with our partners in the Orlando community. The palpable energy we feel as part of this community is a major asset as we work to double the size of our business over the next several years."
Since announcing its relocation to Orlando in July, Conti Federal has celebrated a number of significant company wins, including:
About Conti Federal
Conti Federal Services is a leading global construction and engineering company with roots dating back 115 years. The company has delivered some of the most demanding projects for the U.S. federal government, on time and on budget. Conti Federal specializes in disaster preparedness and recovery, classified and secure construction, critical infrastructure and environmental remediation. Conti Federal is dedicated to ensuring clients meet mission success while committing to their core values of safety, integrity, and compliance.
Tags