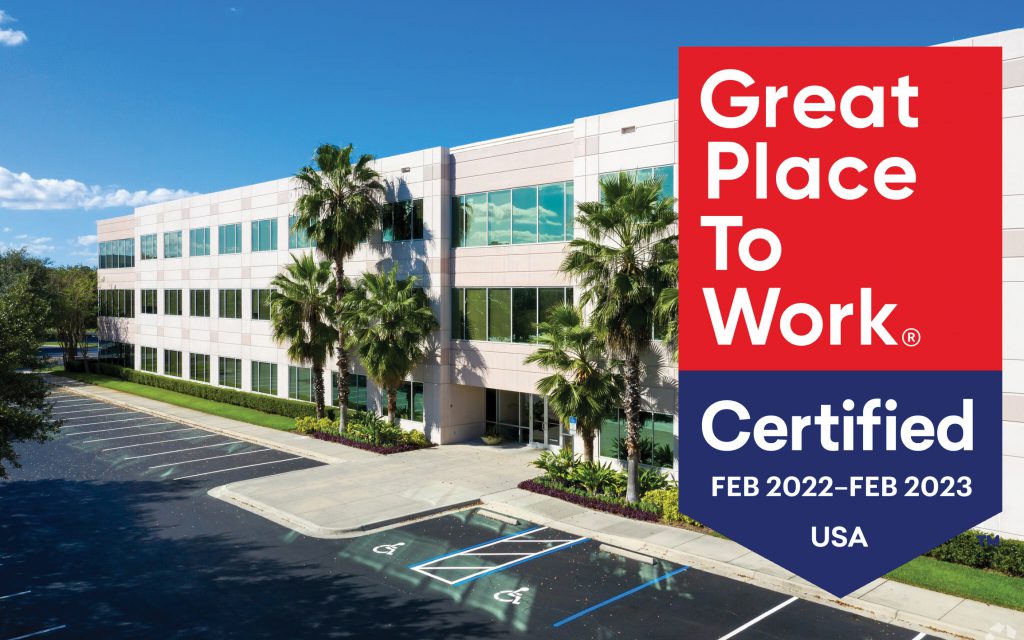 Conti Federal Earns 2022 Great Place to Work Certification™
March 23, 2022
Conti Federal is proud to announce that they have been certified by Great Place to Work® for the first time since relocating its headquarters to Orlando. The prestigious award is based entirely on what current employees say about their experience working at Conti Federal. This year, 98% of employees said it's a great place to work – 41 points higher than the average U.S. company.
Great Place to Work® is the global authority on workplace culture, employee experience, and the leadership behaviors proven to deliver market-leading revenue, employee retention and increased innovation.
"Great Place to Work Certification™ isn't something that comes easily – it takes ongoing dedication to the employee experience," said Sarah Lewis-Kulin, vice president of global recognition at Great Place to Work. "It's the only official recognition determined by employees' real-time reports of their company culture. Earning this designation means that Conti Federal is one of the best companies to work for in the country."
"We are honored to be recognized by Great Place to Work®. We're proud of not only the hard work and success of our employees, but also the culture they've helped us create and promote," said Conti Federal Chief Administrative Officer, Anthony Blommel. "It's their dedication that has helped us create a workplace that serves our country and fellow citizens in achieving mission success with some of the most challenging projects for the US federal government – from delivering clean water to communities to building infrastructure for the military."
With offices in Orlando, Florida, Edison, New Jersey, Rapid City, South Dakota, and Omer, Israel as well as project worksites located across the world, Conti Federal offers their employees opportunities to work at locations across the globe and experience people and cultures sometimes far different from their own. Beyond locations worldwide,Conti Federal also offers flexible job arrangements to fit employees' needs—many roles can be performed in either a work-from-home or hybrid home/office model, ensuring that Conti Federal employees have the right options for their work setting.
Conti Federal also prides itself on offering employees paid time off to volunteer in the community. "Giving back to the communities we work and reside in is as important as the work we do," shares Blommel. "Allowing our employees the time to do so is just one way we help uphold that commitment."
According to Great Place to Work research, job seekers are 4.5 times more likely to find a great boss at a Certified great workplace. Additionally, employees at Certified workplaces are 93% more likely to look forward to coming to work, and are twice as likely to be paid fairly, earn a fair share of the company's profits and have a fair chance at promotion.
About Conti Federal
Conti Federal Services is a leading global construction and engineering company with roots dating back 115 years. The company has delivered some of the most demanding projects for the U.S. federal government, on time and on budget. Conti Federal specializes in disaster preparedness and recovery, classified and secure construction, critical infrastructure and environmental remediation. Conti Federal is dedicated to ensuring clients meet mission success while committing to their core values of safety, integrity, and compliance.
About Great Place to Work Certification™
Great Place to Work® Certification™ is the most definitive "employer-of-choice" recognition that companies aspire to achieve. It is the only recognition based entirely on what employees report about their workplace experience – specifically, how consistently they experience a high-trust workplace. Great Place to Work Certification is recognized worldwide by employees and employers alike and is the global benchmark for identifying and recognizing outstanding employee experience. Every year, more than 10,000 companies across 60 countries apply to get Great Place to Work-Certified.
About Great Place to Work®
Great Place to Work® is the global authority on workplace culture. Since 1992, they have surveyed more than 100 million employees worldwide and used those deep insights to define what makes a great workplace: trust. Their employee survey platform empowers leaders with the feedback, real-time reporting and insights they need to make data-driven people decisions. Everything they do is driven by the mission to build a better world by helping every organization become a great place to work For All™.
Learn more at greatplacetowork.com and on LinkedIn, Twitter, Facebook and Instagram.
Tags