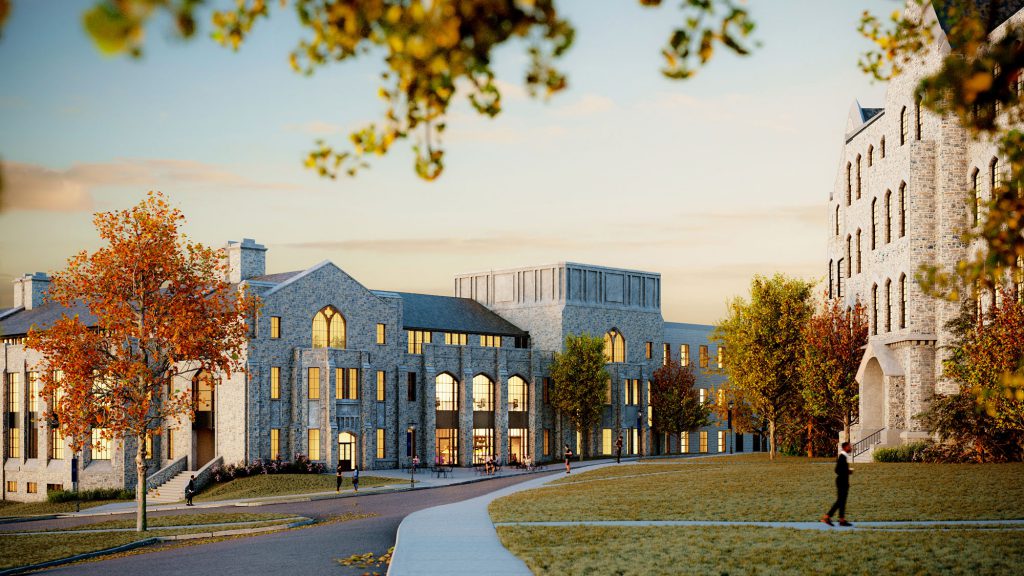 Kurt and Gina Conti Family Foundation Names New, State-of-the-Art Sustainability Lab at Villanova University
April 18, 2022
Advancing the priorities of Villanova University's Strategic Plan, the expansion of the Center for Engineering Education and Research (CEER) will usher in a new era for the
College of Engineering, furthering its commitment to igniting change through interdisciplinary research and innovative teaching and learning. In addition to creating a new home for the entire engineering community, the expansion will impact and elevate every aspect of the College's academic and student experience with improved and expanded research facilities focused on interdisciplinary connections and state-of-the-art instruction spaces for hands-on, problem-oriented and team-based learning.
The 150,000 sq. ft. addition will more than double the existing 92,000 sq. ft. building and allow space for 11 flexible laboratory spaces and other important upgrades and amenities. Laboratory spaces will be designed for multi-disciplinary teams to work together on topical areas of research. The Kurt and Gina Conti Family Foundation gave towards the construction of one of these labs in support of the importance of continued and advanced sustainability research. The goal of these new labs is to promote inter-disciplinary research, getting professors in different departments to come together and collaborate.
The Kurt and Gina Conti Family Foundation is pleased to announce The Conti Family Sustainable Energy and Advanced Materials Research Lab at Villanova University. The lab will house five principal investigators working from two departments of Villanova, electrical/chemical engineering and biomedical engineering. Various projects will include research on battery storage and advancing the efficiency of solar materials, capturing carbon dioxide and using it to produce sustainable hydrogen, and using chemicals from renewable sources and combining them with catalysts to lower energy consumption, just to name a few.
As The Conti Group grows and expands our involvement in the sustainability and renewable energy industry, it is important to actively support the efforts of researchers in that field. We are proud to contribute to this campaign and look forward to the amazing ideas and innovations that are born from these labs.
"Given the immense body of research and knowledge, mankind knows the universe is essentially infinite; conversely, we know with certainty that the earth is very finite," said Conti Group CEO and Chairman Kurt Conti. "It is for our generation to establish the foundation to protect and sustain what God has so generously gifted us".
Click here to learn more about the CEER Expansion at Villanova
Tags